Last weekend, some of Alberta's most brilliant young high school students put their talents to the test at the prestigious Sanofi Biogenius Canada regional competition in Edmonton.
Out of the 16 competitors from across Alberta, Ruicen (David) He, a grade 12 student from Old Scona Academic High School in Edmonton, emerged as this year's Alberta winner. David's project sought to find treatment for Hutchinson-Gilford Progeria Syndrome (HGPS) – a disease that causes extreme premature aging. He hopes that his research will contribute to a treatment for Hutchinson–Gilford Progeria and contribute to efforts to reduce the speed of aging.
As the regional coordinator for Alberta, MindFuel works with students to craft their proposals, match them with a mentor, and facilitates the judging experience. MindFuel is proud to be working with Partners in Research (PIR) to deliver programming that changes how high school students feel about biotechnology.
Cassy Weber, MindFuel CEO, states, "Investing in tomorrow's youth through educational programs such as the Sanofi Biogenius Canada competition, allows students to explore the world of science and equips them with the tools to create real impact in the world today. It's vital that we give students the opportunity to have these experiences that show them what they are capable of, ultimately helping them build bright futures in innovation and as the leaders of tomorrow."
Sanofi Biogenius Canada (SBC) is an international science research competition open to high school students, focused on helping over 4,000 young Canadians pursue real-world, cutting-edge scientific research projects. Previous SBC alumni have gone on to develop new technologies as well as start their own companies and dramatically change our world.
David thoroughly enjoyed his experience, saying "Being given the opportunity to participate in this research has turned out to be the highlight of my experiences during high school. I didn't know where this experience would lead me and I have my mentors Cody Lewis and Dr. Gordon Chan to thank for it all. I express my deepest gratitude towards them both. They have offered not only their lab but their time to mentoring me through this journey of learning. This is just the beginning of an exciting adventure as I get a step closer to pursuing my passions."
We cannot wait to see where David's passion will take him. David will be representing Alberta at the national competition in Ottawa on May 2 and 3. Winners there go on to the 2016 International BioGENEius Challenge held in conjunction with the BIO International Convention in San Francisco, June 6-9.
David was joined by additional prize winners at the Alberta SBC competition last weekend, all out to change the world with their amazing ideas.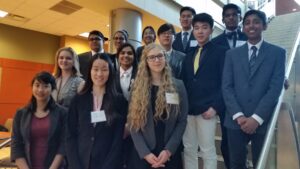 Astha Burande, winner of the "Best Presentation" award and who ranked second overall in the competition, researched a potential treatment for breast and prostate cancer through the creation of drugs that can target cancer cells.
Faris Fazal, a 14-year-old Calgary student was the winner of the "Most Commercially Viable" award and ranked third overall, exploring the side effects of painkillers on cognitive function in the hopes of decreasing their side effects.
Sunand Kannappan, was ranked fourth place for her project that was looking to find a treatment for a common and fatal form of lung cancer.
Rowan Lind, ranked fifth with her project that was researching a way to create a treatment for Alzheimer's disease.
Timothy Fu, won the award for "Best Poster," for his project that was trying to find a treatment for breast cancer.
These award-winning ideas were developed by the students and assistance was provided from local universities to turn the ideas into a reality.
MindFuel would like to thank all of the volunteers, judges and mentors that invested hundreds of hours to make the event such a success.
About Sanofi Biogenius Canada:
For over two decades, the Sanofi Biogenius Canada (SCB) program has nurtured young minds and fostered great talent for the future, challenging high school students to carry out ground-breaking research projects in the field of biotechnology.
Those selected for the SBC competition are matched with local mentors, giving students hands-on research experience in a professional lab setting. Participants compile their results and present their findings at regional competitions. Cash prizes are awarded and regional winners advance to the National stage, where they vie for the top spot and the chance to compete in the International Biogenius Challenge, held at the prestigious BIO International Convention – the largest biotechnology event in the world.
For more information visit biogenius.ca.