now with Augmented Reality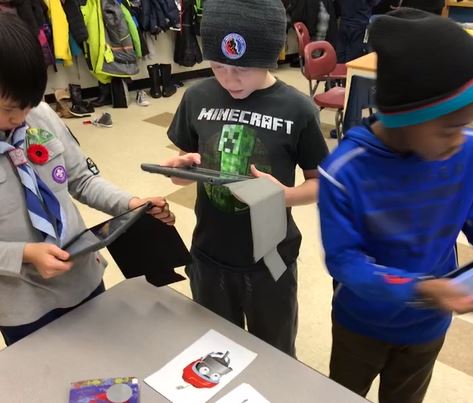 What teachers love about Wonderville-AR
I found the set up very engaging for students. The platform is easily used for any science topic. Plenty of examples to use when building your own activity.
What students say about Wonderville-AR
a fun way to learn about science and be active at same time
questions are multiple choice and got to walk around
engaging and got to explore and really fun
I liked it because it made it more fun and it asked questions and I learned in a fun way
MindFuel has partnered with Agents of Discovery to integrate Augmented Reality (AR) to our lessons plans in our Wonderville platform. This integration allows teachers to deliver a Wonderville lesson, then follow it up with an engaging interactive activity that lets students use a mobile device to get up and roam the classroom to find trigger images. These images unlock challenges that support the lesson topic to demonstrate understanding.
Wonderville lessons now include an AR-Mission link that provides the trigger images that a teacher (or parent) can place around the room or school for students to search out. Students take a picture of the specified trigger image with the app on their mobile device to reveal challenge questions, which they answer before proceeding to the next challenge. Teachers use Wonderville AR to engage students and demonstrate understanding.
Wonderville lessons create a unique interdisciplinary experience that addresses both curriculum outcomes and essential competencies: creativity, critical thinking, collaboration, and innovative problem-solving. Each lesson is aligned to various learning practices including Alberta, NGSS, Ontario, and TEKS. Of note for Alberta and NGSS is that lessons include competencies and a three-dimensional approach to learning.
Serving educators for over 15 years, Wonderville drives student engagement, saves teachers valuable time, and most importantly, helps students understand and appreciate the important world of science. Our interactive resources have encouraged millions of students around the world to embrace STEM learning, and they can do the same for your students. Get your kids hooked on Wonderville and watch them become tomorrow's innovators, critical thinkers and creative problem solvers.
Interested in experiencing Wonderville-AR first-hand?