Engineering new bacteria and building revolutionary devices for waste management – these are just a couple of the amazing innovations young high school students in Alberta are creating. MindFuel, through its partnership with Alberta Innovates–Technology Futures (AITF), manages the geekStarter program that provides funding and mentorship opportunities to high school and university students allowing them to engage in research that could one-day change the world. geekStarter students are tasked to solve authentic problems and build solutions based on cutting-edge Science, Technology, Engineering, and Mathematics (STEM) fields. MindFuel was excited to recently present two cheques to two of our high school geekStarter teams.
On April 5, 2016, Canmore's Our Lady of the Snows Catholic Academy High School was presented a $12,000 geekStarter cheque by Cassy Weber, MindFuel's CEO, who was accompanied by John Borrowman, Mayor of the Town of Canmore, and teachers Luc Arvisais and Jessica Puurunen and the team of students, the BreaKERS. These young students proposed building a device that will break down keratin wastes such as hairs or feathers that can be found in sewage, wastewater and poultry industry water. This type of waste causes problems in all municipalities and is expensive to mitigate.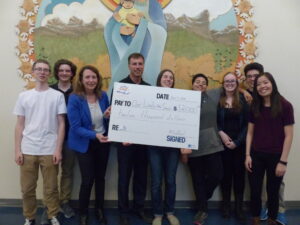 On April 8, 2016, Ms Weber, joined by MLA Greg Clark and Calgary Board of Education Trustee Julie Hrdlicka, presented another cheque for $12,000 to the Central Memorial High School geekStarter team, located in Calgary. This group of talented students, Jared Pon, Vladimir Taikov, Zenab Bhamgerwala, Rylan Claussner, Arden Geyer, Paige Atkins, Alison Fettig, Shauna Kelly, Francis Routledge, Jessica Skall, Kristie Shaw, Keira Britto, Claire Cho and Megan Bateman, and their advisors James Byttynen, Kevin Klemmer, Shannon Donnelly and Jemilla Khanis, are attempting to engineer bacteria for the treatment of cancers that would inhibit the growth of tumours by cutting off the tumours' blood supply.
geekStarter funding supports students' travel costs, workshops and event fees to ensure that they are able to attend and compete in the finals for the prestigious iGEM (International Genetically Engineered Machine) competition, which will have them facing other talented high school students from around the globe. iGEM is an annual, worldwide, synthetic biology event engaging undergraduate, graduate and  high school streams. This year's competition will be held October 27 – 31, 2016 at the Hynes Convention Center in Boston.
"The pr
ogram is so important for students as it helps them to engage in the world of innovation with the objective of solving real-world problems. Age isn't a factor – we have students in grade 8 working with teachers and other students to explore and research global problems. Ultimately, students become engaged in science learning and the collaboration between all the groups inspires them to become excited and passionate about the projects they are working on," said Madgalena Pop,  project manager for geekStarter at MindFuel.
MindFuel is excited to be a part of building the next generation of scientists and innovators who will one day change the world. Stay tuned for updates about all the great things the teams will be doing in the coming months.
About geekStarter:
geekStarter engages students in solving authentic problems and building solutions based in cutting-edge Science, Technology, Engineering, and Mathematics (STEM) fields. The project-based learning experience culminates in prestigious international competitions and events, where students share their research and innovations with other young scientists as well as with leaders in STEM. Through emphasis on multi-media presentations and networking, these events provide students with opportunities to celebrate their successes and build a community of peers across Alberta and the world. For more information, please visit: https://mindfuel.ca/programs/edacity/geekstarter.