MindFuel is excited to be part of the Canada 150 anniversary celebrations. As a recipient of project funding from the Government of Canada, work has already begun on a new digital learning resource about Canada's great inventions and contributions over the past 150 years.
"The 150th anniversary of Confederation is the perfect time to highlight the rich and unique contributions of Canadians to the evolution of our country," said the Honourable Mélanie Joly, Minister of Canadian Heritage. "Thanks to the interactive digital game by MindFuel, young people will have the chance to learn more about Canadian scientists and their inventions—and have fun while doing it. During this year of major celebrations, I invite you to discover Canada's scientific heritage!"
"Canada has a long and proud history as an inventor of essential science products," said Cassy Weber, CEO, MindFuel. "With the help of Canada 150, we are building a new Wonderville game, free for children in Canada and around the world, about some of the many Canadian inventions that everyone benefits from but might not realize came from Canada."
The interactive, multi-level, digital educational game will focus on 150 years of Canadian scientific achievements, inventions and the people involved in them. The goal of the project is to inspire students to engage with science, technology, engineering and math (STEM) studies and pursue a STEM-related career. The game and associated learning resources will be fully bilingual, and the anticipated launch is late June 2017.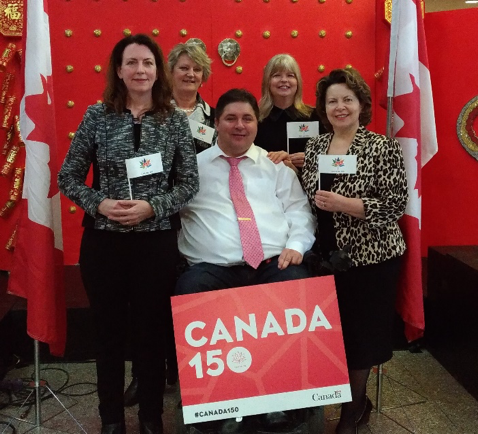 MindFuel representatives (l to r: Cassy Weber, CEO; Sue Stevenson Brown. Community Engagement; Tammy Yamkowy; Marketing & Communications; Alma Abugov, Community Engagement) attended a Canada 150 funding announcement in Calgary with the Hon. Kent Hehr, Minister of Veteran Affairs, who was representing the Hon. Mélanie Joly, Minister of Canadian Heritage.